La Nación, Buenos Aires, Argentina. 25.08.2016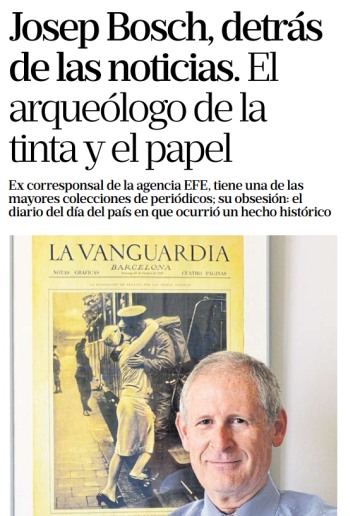 Escuche (en francés) 3 entrevistas difundidas por la RTS (Radio Televisión Suiza) y Radio Cité Genève sobre la exposición en la Fundación Bodmer (Ginebra)
Interview on Swiss Italian TV RSI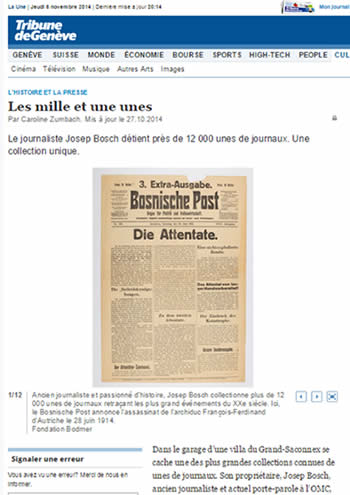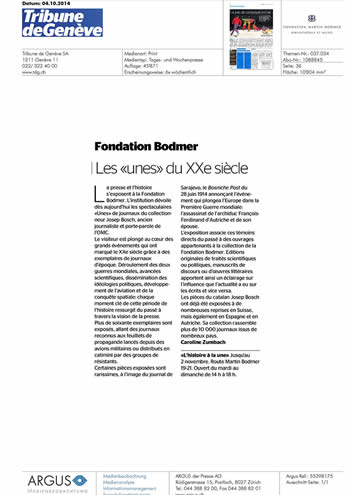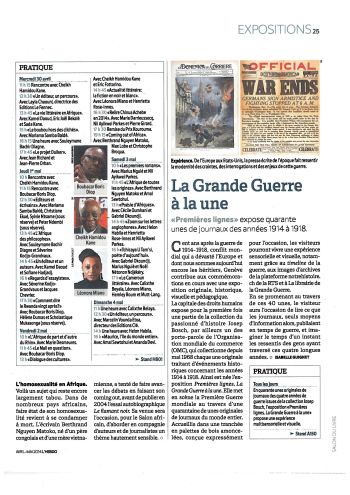 El Correo Gallego - 1 de Junio de 2013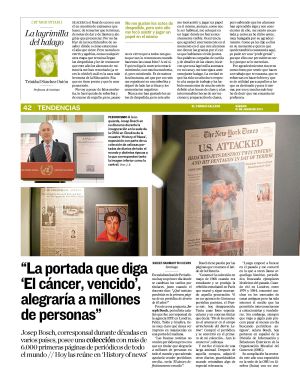 Entrevista al periodista Español Josep Bosch - EL TIEMPO ARGENTINO - 3 de Marzo 2013
Reportaje de EFE TV en el que se informa del hallazgo de 600 periódicos ocultos desde la Guerra Civil Española (1936-1939) y que ahora forman parte de la Colección Josep Bosch. Se trata de El Diluvio, publicado en Barcelona.


---
Edición especial del semanario suizo L'Hebdo.
Diciembre de 1999
"LE SIECLE A LA UNE"
---
Artículos publicados en Catalonia Today
• Holding the front page (Suplemento de 4 pàginas)
• The Washington Post ("Terror Hits Pentagon, World Trade Center")
• The Times, London ("Hammering down the Wall")
• The New York Times ("Men Walk on Moon")
• The Evening News, London ("The Beatles") -
• The Dallas Morning News ("Kennedy Slain on Dallas Street")
• Democracia, Buenos Aires ("¡Evita!")
• Shanghai Evening Post ("Nanking Abandoned")
• Daily Mail, London ("Russia Cuts Last Link")
• Dawn, Karachi, Pakistan ("Mahatma Gandhi a Martyr to Assassin's Bullets")
• Los Angeles Times ("Peace")
• New York Herald Tribune ("First Atomic Bomb Smashes Japanese City")
• Baltimore News-Post ("Nazi War Ends")
• Chicago Daily Times ("Berlin Falls")
• Stars and Stripes ("Hitler Dead")
• Moscow News ("Conference of Leaders (..) in Crimea")
• The Daily Telegraph, London ("Gen. De Gaulle Enters Liberated Paris")
• San Francisco Chronicle ("War! Japan Attacks U.S.")
• The Sun, Melbourne ("Germans March into Paris")
• Daily Herald, London ("War declared by Britain and France")
• Evening Standard, London ("Barcelona Falls")
• Nottingham Evening News ("The King Abdicates")
• El Diluvio ("¡¡No Pasaran!!")
• Chicago Daily Tribune ("14-Year Dry Era Ends Today")
• Chicago Daily Tribune (Paris edition) ("Hitler is Named Chancellor")
• The Atlanta Constitution ("Billions in Stock Values Vanish (...)")
• The New York Times ("Lindbergh does it!")
• The British Worker ("Great Strike Terminated")
• Boston American ("War Ends")
• Russian Daily News ("The War")
• Nashville Tennessean ("Prohibition Passes in House")
• The Times - Picayune ("War Flame Leaping over Europe")
• Daily Graphic ("Bravo Bleriot !")
• The Daily Telegraph, St. John ("Marconi spans ocean by wireless system")
• The Call, Chronicle, Examiner ("Earthquake and fire. San Francisco in ruins")
• Elmira Star-Gazette ("Titanic survivors recount horrors of great disaster")
• The San Francisco Call ("Allied forces rescue foreigners in Peking")
---
Estos articulos fueron publicados en la revista trimestral Le Petit Jour de
la Association des Amis des journaux et publications (AJOUREP).
La prensa en Madrid durante la Guerra Civil
La presse à Madrid pendant la Guerre Civile (Francés)
La bataille de Madrid (Francés)
Le déclenchement de la Guerre Civile Espagnole (Francés)
La presse quotidienne de Barcelone en 1936 (Francés)
La presse et la montée d'Hitler au pouvoir (Francés)
Conquering the airways between New York and Paris (Inglés)
À la conquête du ciel entre New York et Paris (Francés)
1926: The British general strike of 1926 (Inglés)
1926: Grève Générale en Grande Bretagne (Francés)
La Russie 1917: Une Révolution dans deux actes (Francés)
Russia 1917: A Revolution in two acts (Inglés)
Asesinato del heredero del trono de Austria. La Primera Guerra Mundial - Junio-Julio de 1914
Sarajevo Juin 1914 : l'attentat qui déchaîné la Grand Guerre (Francés)
NOVEMBRE 1918: fin de la Première Guerre Mondiale (Francés)